Tell me more about the new definition of dependent children on their parents policy to a new maximum age of 26?
no index, follow http://wp.me/P3GNe3-Vm
...Group or individual health insurance coverage that provides dependent coverage of children shall continue to make such coverage available for an adult child until the child turns 26 years of age. College attendance or student status is no longer an issue! ((Obama's Plan SEC. §2714(a). EXTENSION OF DEPENDENT COVERAGE., Regulations & Guidance

Get CA Quotes for Young Adults, Nationwide.

Insurer's must notify you, when you lose dependent status (AB 910 2007)

Health Care Reform.... Excerpt from Wikipedia

Due to the new regulations of guaranteed issue, and allowing children to be included on their parents' plans until age 26, several insurance companies announced that they would stop issuing new child-only policies.[131][132][133] However, because children would now be covered by their parents' plans, the Census Bureau found that the number of uninsured 19- to 25-year-olds had declined by 1.6% or 393,000 people by 2011.[134] Starting January 1, 2014, state health insurance exchanges will be required to offer a child-only coverage option, and Medicaid eligibility will be made available to 16 million individuals with incomes below 133% of the federal poverty level.[135]
At age 26 check out:
Quotes under Health Care Reform

COBRA
Cal COBRA
Individual & Family Plans - just getting a new policy or requesting a change to their own policy.


Disabled?
FAQ's
Consumer Links
Anthem Blue Cross 9/1/2010 Bulletin
Health Care Reform
More Video's
White House.Gov
Affordable Health Care Act
YouTube Channel
Technical Links
Our Marked Up Copy of Federal Register
CA enacted SB 1088 2010 Price Insurance Code 10277 to require Insurers to conform with PPACA (Obama's Plan)

Federal Regulations - Student Health Plans
Blue Cross Small Group Administrative Manual
Loss Ratio is higher for kids on parent's plan vs those who have their own coverage Washington Post
Definition of Dependent Internal Revenue Code IRC §152
a) ''dependent'' means any of the following individuals over half of whose support, for the calendar year in which the taxable year of the taxpayer begins, was received from the taxpayer (or is treated under subsection (c) or (e) as received from the taxpayer): IRS Publication 501
When your child/stepchild gets married or turns 23 (whichever comes first), the child is no longer considered your dependent.
There is one exception: when your child turns 23 but is incapable of self-support because of a physical or mental disability that has existed from before the age of 23. In this case, the child may remain a dependent until the incapacity ends.
Staying on Health Plan if Disabled

Blue Cross
Employer enforcement of exclusion for dependents who are eligible for their own employer-sponsored coverage

The health care reform law allows grandfathered group health plans to exclude coverage for young adult dependents who are eligible for their own employer-sponsored coverage. While we aren't making this exclusion standard, 100+ grandfathered groups can choose to have the exclusion.

If a group chooses to exclude coverage for dependents who are eligible for their own employer-sponsored coverage, we will add the exclusion to the group's certificate language. However, we will not enforce the exclusion on behalf of the group. The employer will need to develop a method that suits its particular needs, as well as materials that support the enforcement method (such as an affidavit for employees to verify that their covered dependents are not eligible for their own coverage). (Blue Cross 12/3/2010 Bulletin)
Historical Links
5/13/2010 update
Click to Enlarge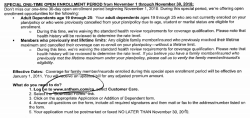 Blue Cross Anthem Open Enrollment
November for January 1 Effective Date
Application - Change Form
Commercial health plans and insurers are prohibited from terminating coverage for full-time dependent students over 18 during a break in the school calendar or a medically necessary academic leave of absence.

Coverage continues for up to one year or until coverage is scheduled to terminate under the plan's terms and conditions, whichever comes first.

Documentation of the medical necessity must be submitted to the Insurance Company if the health plan certifies the students for coverage.

(kp.org/HR2851) (SB 1168)
Eligible Dependents
Policy Definitions
The following persons, if not otherwise covered as subscribers in your Blue Cross plan or in military service, are considered eligible dependents:
• The lawful spouse of the opposite sex -
so, if you're getting divorced you can stay on, till the divorce is final. You're spouse cannot take you off the coverage out of spite - Standard Family Law Restraining Orders FL 110
• A certified domestic partner
See article on State Bar Web site

• Any unmarried, biological or legally adopted child (see "Children" subsection for age requirements)
• A stepchild of the subscriber or enrolled spouse
• A child (ward) of a subscriber or the subscriber's enrolled spouse who is named the permanent legal guardian
• A dependent child of a domestic partner, only if he/she is the employee's biological or adopted child and only if domestic partner eligibility has been elected by the employer Source Page 15 Blue Cross Administrators Guide AB 1672 Definition of Dependent Health Net - Page 18 Employer Manual Blue Cross Individual Dental Definition - Page 11 of their brochure
Dependents (age 19 through 23) attending school full-time, include name of dependent, name/address of school, and number of credits PacifiCare Individual Definition
Right of Non Custodial Parent to Obtain Medical Information (Family Law Code 3751.5)
Blue Shield Individual
Page 7 pdf. blue shield ca.com/
Page 43 id
Learn more about the Self Employed Deduction to Age 27
Obama's Plan